What is the best door mat?
The Ultimate Guide on Finding the Best Doormats for Your Home
It's not easy to decide on a new doormat for your house. Don't make the doormat look like an afterthought after all the effort you had put into designing the rest of your home. Since your doormat is the first thing new guests see when they come to your house, you'll want to make a good first impression. Furthermore, the doormat serves as your home's first line of defense against debris brought in by wet boots and shoes. It's also a quick and easy way to make your entryway look more organized. As a result, the material and scale of a mat should be considered when you're in the market for a new one.
Why You Need a Doormat
Grit, dirt, dust, and other abrasive materials that are pulled into the house on the soles of the shoes are effectively caught by doormats. You should have doormats for all of your home's key entrances. Back and side doors, as well as the front door, are included. When it comes to preserving your wood floors, even a small doormat positioned at each of these points in your home will make a big difference.
Deciding What You Want For Your Doormat
Inside or outside, where will you put your doormat? Is the doormat primarily intended to serve as a buffer between your interiors and exteriors? Do you want it to scrape the dirt off your shoes as much as possible? To find the best doormat for your needs, you'll need to answer some questions.
What is the best type of doormat?
The best type of doormat is environmentally friendly, functional, and stylish. Having a good brush function, it will prevent dripping rainwater, debris, and wet snow from entering your home in any form of weather.
What is the best front doormat?
The best front door mat is one that has a striking design, is thicker, and is the right size for the width of your front door. The mat should be no less than 80% of the width of your front door, according to one basic law.
What makes a good doormat?
A good door mat must take its primary function which is to put off the first layer of mud, dirt and moisture from feet or shoes. Followed by its durability and good design to provide the perfect finishing touch to your entryway. A good quality doormat is a worthwhile investment as it serves to protect your floor from dirt and damages.
Buying Guide for Best Doormats
Wanna impress your visitor? Get an impressive door mat for your front door. A doormat is truly the first thing your visitor could see every time they enter your home. Might as well pick the best one. Here is the buying guide for the best doormats to enliven your front door.
Coir Doormat
Coir door mats are also known as coconut matting. It is an eco-friendly choice that makes them a great addition to green homes. It is made from sustainable long, brown fibres of coconut husks. In terms of production, coco coir fibres are separated from the husk and then spun to create coir yarn. The brown coir fibres are sturdy, stronger and more commonly used for doormat construction. Coir doormats are functional and add allure to a doorway entrance. This traditional and natural doormat is very effective and firm enough to withstand heavy foot traffic while removing moisture through the fibres, which also helps prevent them from molding and rotting under weathered conditions. Also, the bristled texture of coir door mats help clean the mud and dirt from shoes efficiently.
Pros
It has an attractive price point.
It has a natural look which makes it an attractive choice for home décor.
It has good scraping and cleaning properties for removing dirt and water from your floors, preventing them from being a slipping hazard.
It is 100% biodegradable.
Cons
It is very susceptible to fire hazard.
It can shed over time.
It tends to fade when exposed to sunlight for long period of time (printed mats).
It can only recommend for indoor use.
It is not soft under bare feet due to its bristly and strong texture.
Top 3 Coir Doormats
As functional as they are, coir doormats can also be fun and festive. Choose a design that blends well with your home's aesthetics.
1.Plain Coir Door Mat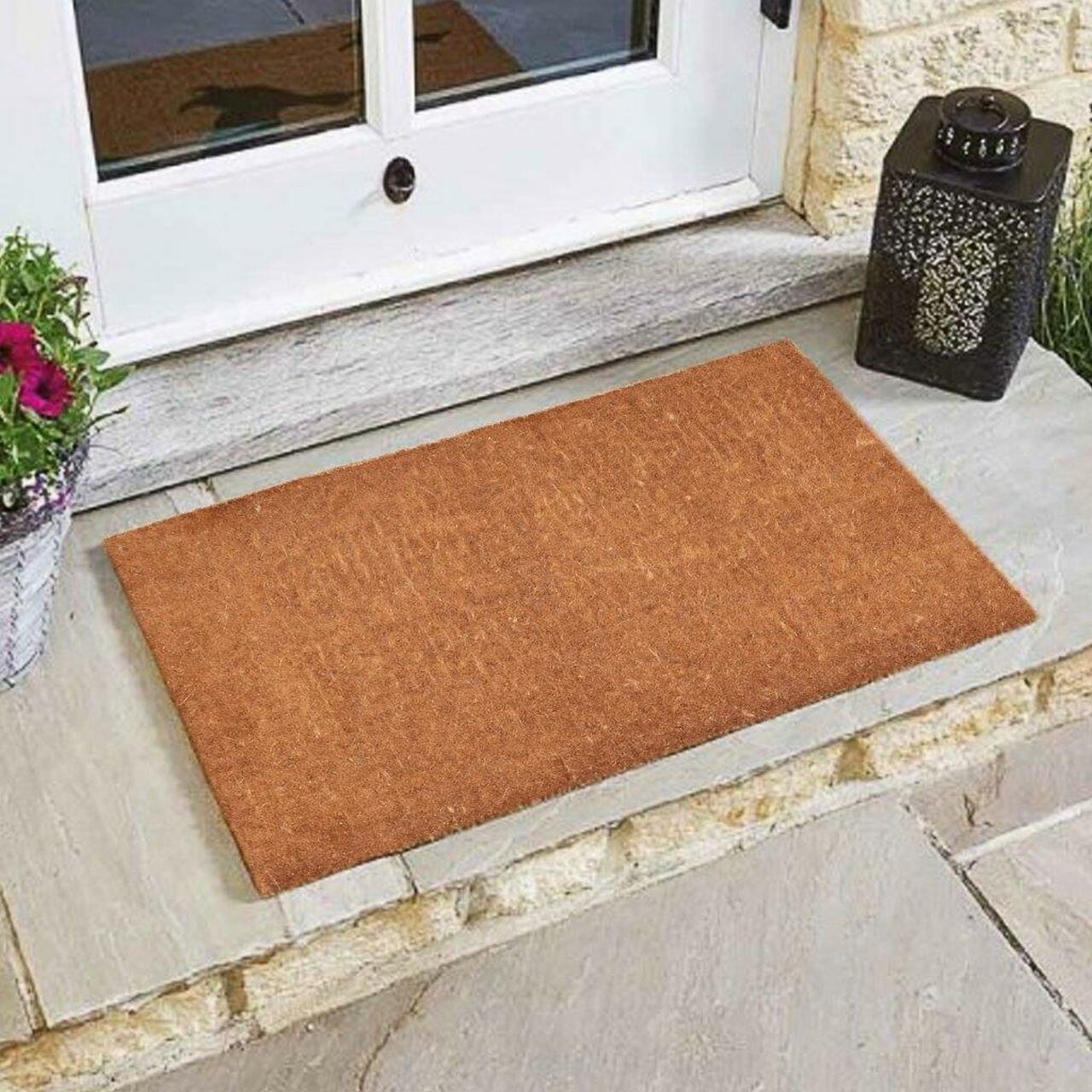 Sometime less is more when it comes to greeting guests at your door. We have found the traditional plain high quality natural coir door mat a popular choice for complimenting beautiful homes. The traditional look wont take your eye off other features around the home!
2. Heart Shape Doormat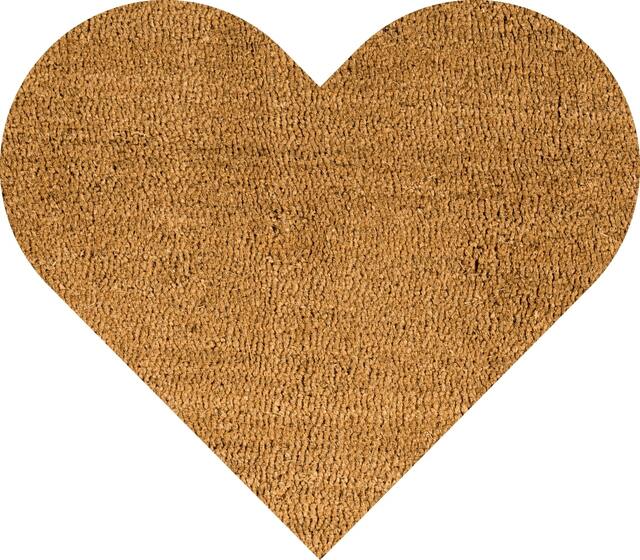 Want to make your entrance? The heart shape door mat is a unique way to stand out yet still trap mess outside. Made from a natural coir with a rubberised backing this mat is high quality and non slip too!
3.Leaf Patterns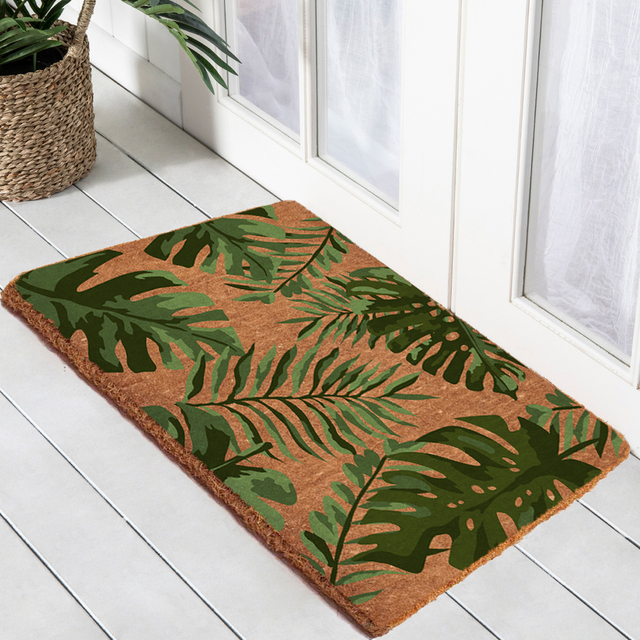 If you prefer a more contemporary design, look no further than this modern leaf pattern coir mat. This large mat is also perfect for oversized doors and its grey colour is especially suited for modern designs.
Front Doormat
Since the doormat is the first thing your visitor will notice in your entryway. It is best to choose an appealing design and high-quality materials for your front doormat. Front doormats can be made from different materials such as natural coir, rubber, and fabric.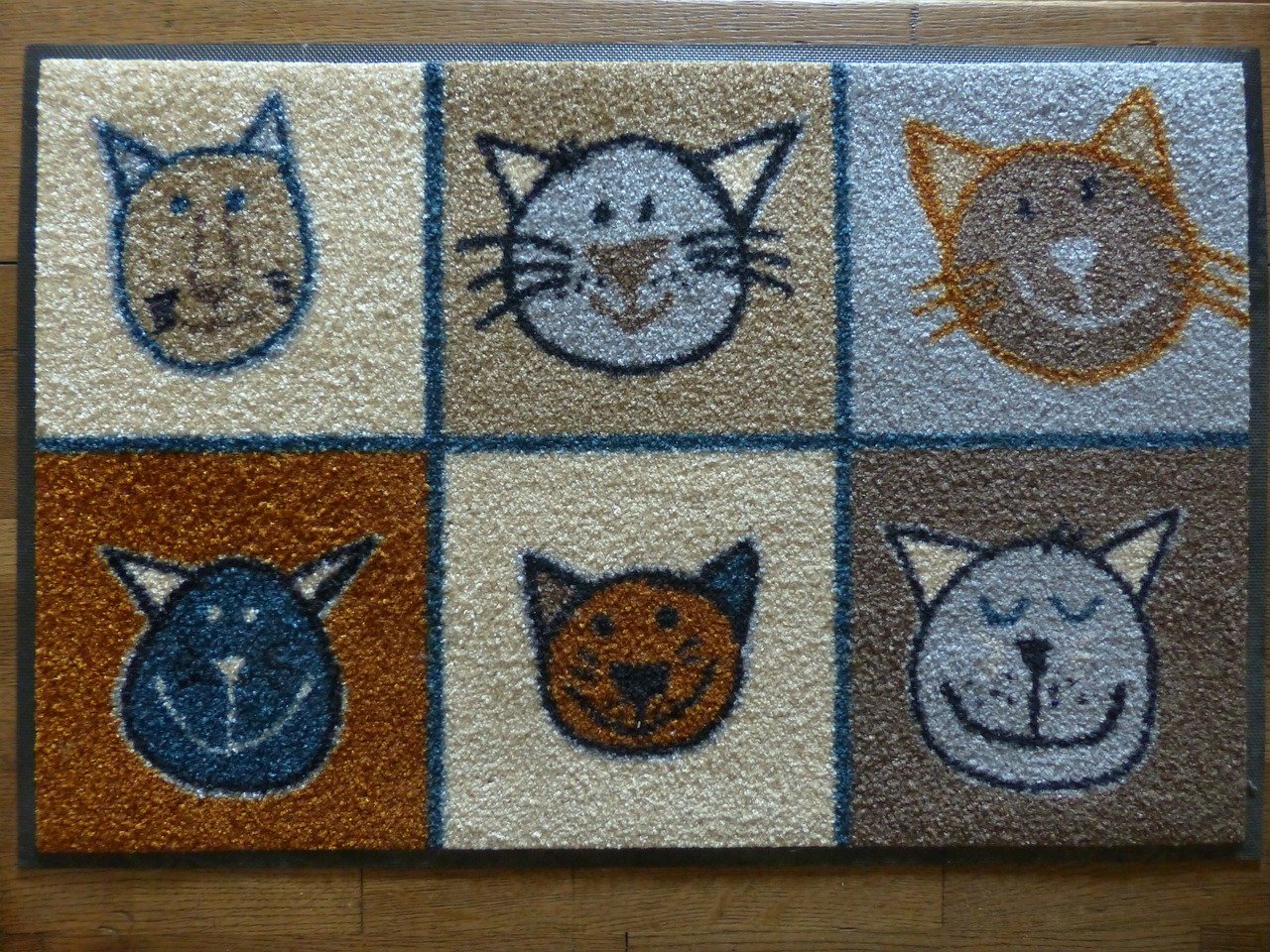 Pros
It can be an exquisite decoration to improve the overall appearance and image of the entrance and exit of your home.
It sets the impression and can be designed with logos and graphics.
Cons
It needs to be cleaned regularly to remove surface-level dirt and keep the design in good working condition.
Top 3 Front Doormats
Make a good first impression with these high-quality, beautifully designed doormats gracing your front door.
1.Horizontal Stripe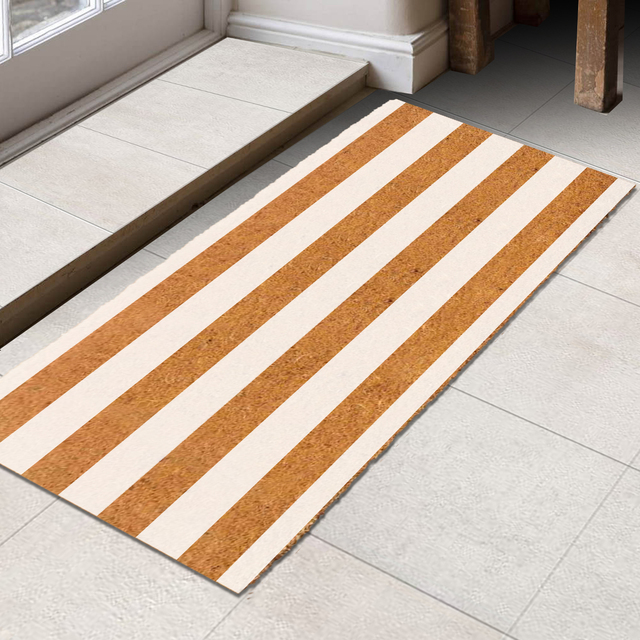 Bring some elegance to your front door with this bold horizontal stripe design. The bold vertical stripes really gives your home that exclusive hampton's feel.
2.Home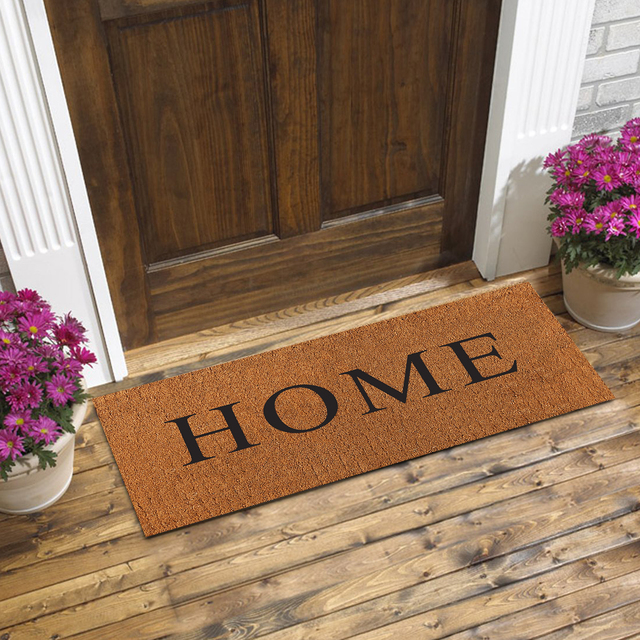 Need something big enough for your double doors? You can't go wrong with this large-sized coir front doormat emblazoned with the word "Home"in black.
3.Moroccan
Get with the geometric design trend with this Moroccan-inspired coir front doormat . Best used with average sized front doors, this intricate print can easily elevate your environment.
Rubber Doormat
A rubber doormat is mostly used as safety flooring equipment. It is an ideal flooring option for several situations and can be used in restaurants, gyms, building entrances, and homes. Most rubber door mats are vulcanized from a virgin rubber material, synthetic rubber or recycled rubber tires which make them a high-density and long-lasting mat.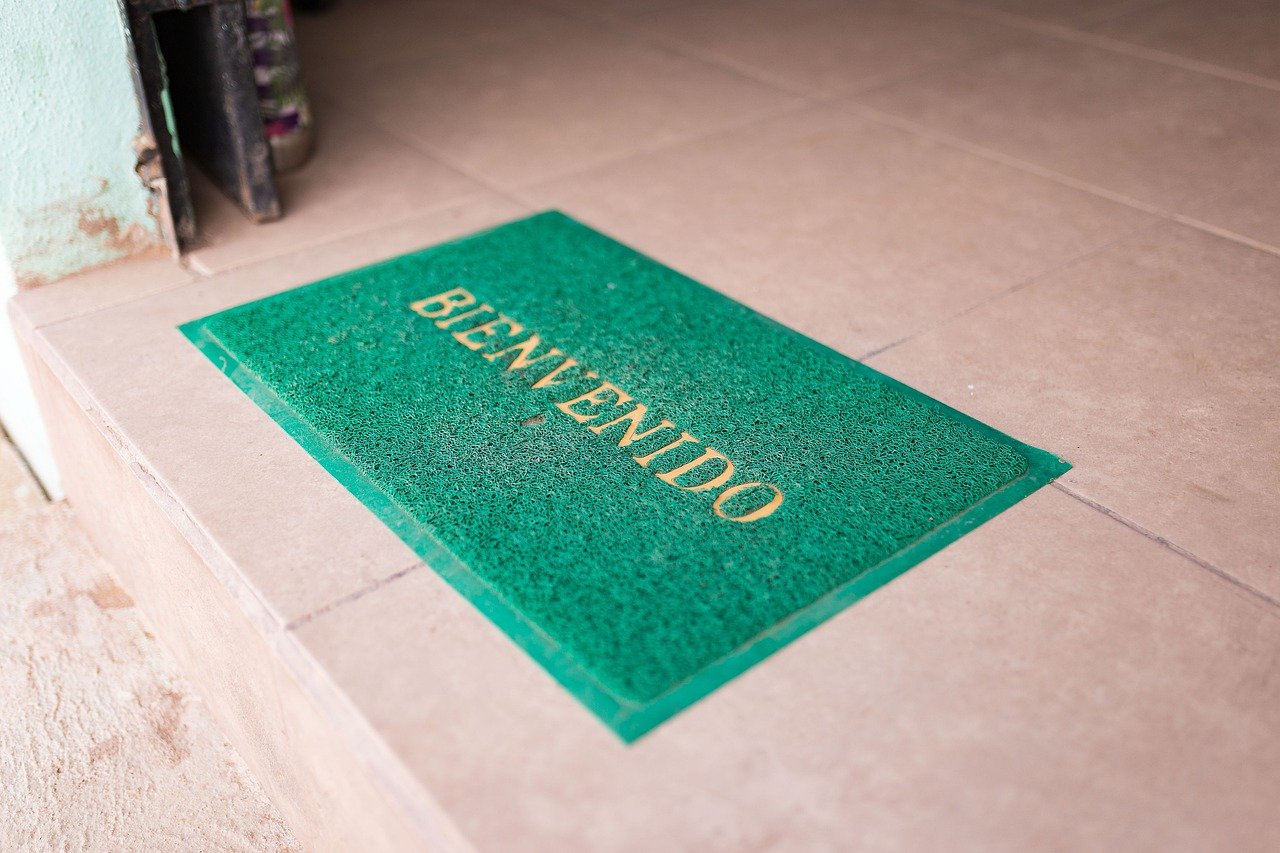 Since rubber is one of the toughest and most reliable materials in the market, rubber matting is becoming increasingly popular due to its designs and the level of comfort it brings.
Pros
It is consumer-friendly and durable, making them a long-lasting flooring option.
It is convenient to use. It is lightweight so you can easily move them around as needed.
It is an anti-fatigue mat that can relieve stress due to its smooth, untextured finish.
It is low-maintenance and easy to clean. Simply use a damp cloth or mop when necessary.
It is slip and water-resistant. The material provides good traction to help prevent falls and injuries.
It is stain, mold and mildew-resistant.
Cons
It is not organically disposable
It is a bit pricey compared to other types of doormat
Some rubber doormats have a distinct smell, though, these odours also diminish with time
Harsh chemicals can easily damage the surface, so it is important to use mild products when cleaning
Top 3 Rubber Doormats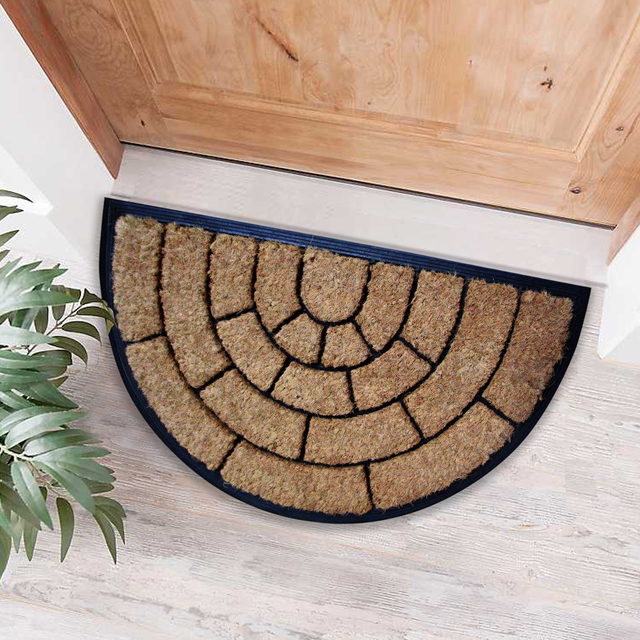 This half-moon Rubber and coir mat is the perfect accessory for smaller doors. The unconventional shape also makes for a good design aesthetic.
2. Timber Look Rubber Mat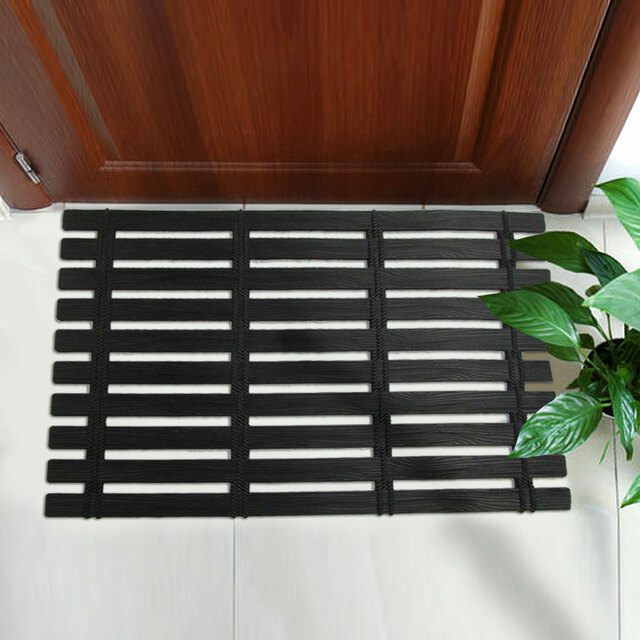 The intricate design on the timber and rope timber look is an attractive alternative to plain rubber mats. It's functional, too. It scrapes dirt from shoes easily and the cut-outs allow the dirt to simply fall to the base of the mat.

A striking Tree of Life design printed in the centre of this large coir and rubber doormat is the main highlight of this mat. Perfect for oversized doors, this doormat is made with a moulded rubber base and ramped edges, making it slip-resistant.
Your Best Doormat Provider
Door Mat is a small family-owned and operated business. We have a wide variety of functional yet stylish mats to complement the design of your home. Our mats are made from high-quality materials for you to feel comfortable underfoot and they can withstand heavy wear. Visit and check our online store for our collection of doormats and pick your chosen one.
We can also help you create your personalised doormat online. Contact us for more info and inquiries.