Doormats serve three main purposes for your home. They allow you and your visitors to clean their feet before they enter, help preserve indoor air quality, and they keep people from slipping. Additionally, they can enhance your entryway's aesthetics.
They're a must for your home, and there are many types like decorative and outdoor doormats to choose from. Learn about the different kinds of doormats here.
Doormats by Function
Indoor Doormats
As they're name suggests, indoor doormats are meant to be inside homes and offices. Like outdoor mats, they are quite durable and effectively trap dirt, keeping your home clean.
However, they typically aren't meant to get as dirty as outdoor mats. Indoor mats are usually made with soft, comfortable materials and are meant to enhance comfort and aesthetics.
Outdoor Doormats
Your home's entryway provides visitors with their first impression, and an outdoor mat will help them feel welcome.
Outdoor doormats are somewhat more functional than indoor ones. They're typically larger, made with rougher or more abrasive materials, and are better at removing contaminants. They also tend to be less colourful and intricate because they can fade or be damaged by sun exposure and other elements.
Decorative Doormats
Decorative mats are usually made for the indoors, and they come in a wide variety of colours and designs. They can come with bright colours, funny sayings, floral designs, or even logos.
Their main purpose is to act as interior decor, and since they're placed indoors, there's no risk of damage from exposure to the elements. You will generally want to place these doormats anywhere but the entryway where they are more likely to get dirty and stained.
There are, however, some decorative outdoor doormats. These typically come in darker colours. At Door Mat, we offer a variety of indoor and outdoor decorative doormats to liven up your home with. We even have personalised doormats which can be made with your choice of design and text.
Scraper Doormats
Scraper doormats are meant to be used as outdoor mats, and their design prioritises functionality over aesthetics. They feature abrasive materials and edges that scrape against footwear, hence the name. This makes them even more effective than other doormat types at removing dirt, debris, mud, and other contaminants.
The materials used in scraper doormats include coir, rubber, PVC, vinyl and more. They're used because they're durable, are able to withstand the elements, and their colours fade slowly. These materials also make scraper doormats easy to clean.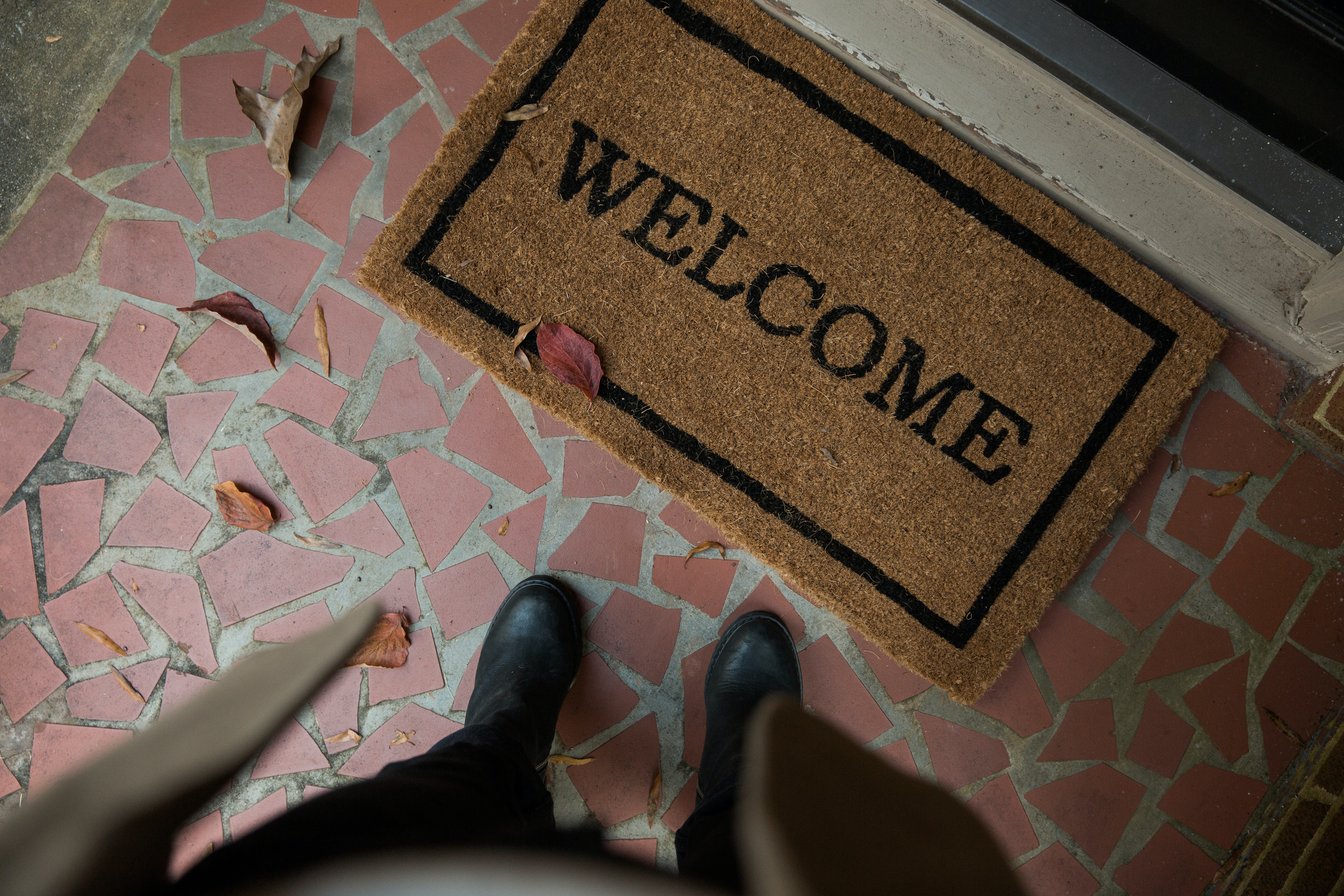 Doormats by Materials
Below are a few materials used to make doormats. There are, of course, more, but these are some that stand out.
Coir Doormats
Coir is a natural, eco-friendly material made from the outer husks of coconuts, and it provides several benefits as a doormat.
Coir doormats are more affordable than synthetic materials, come in a variety of colours and finishes, have a scratchy texture that's good for scraping dirt, and are easy to clean. Their texture also gives them a good grip, making them slip resistant.
Rubber Doormats
Rubber doormats are perhaps the most durable options. Unless they take abuse from something more harmful than footwear for whatever reason, they can last a lifetime. Even when worn with time, you might only want to replace them for aesthetic purposes.
Rubber doormats also serve as good cushions, are easy to clean and maintain, are slip resistant, and are recyclable.
Jute Doormats
Jute fibre is extracted from the stem of a jute plant. It is the most affordable, sustainable, and biodegradable natural fibre.
Jute doormats are soft, durable, pet-friendly, and are easy to clean, requiring just a vacuum for cleaning. Their neutral palette also lets them work well with most home decor, and its colour and texture hides dirt.
However, jute does not make for the comfiest of doormats. They work best at your home's entryway, where no one would stay for long, rather than by the other doors in your house.
A Variety of High-Quality Doormats
Find high-quality doormats in a wide variety of designs and colours through Door Mat. Enhance your home with our durable, functional, and aesthetically pleasing products. Order a door mat online today.
For more information, call us at 1800 571 133 or email us at hello@doormat.net.au. You can also fill out our contact form.