When it comes to refreshing your space, you don't always have to go big or go home. The key is to find the right accent pieces that reflect your style while addressing the specific functions of a room.
One of the many essential pieces that interior designers swear by is the indoor doormat. They add definition to a space, are easily available and even help preserve indoor air quality,
If you want to take it to the next level, Door Mat provides premier and ethically sourced mats without the hefty price tag that comes with luxury pieces. Browse our extensive collection, and purchase your doormat online today.
How Doormats Elevate Your Space
A doormat is that one piece of home decor that homeowners often overlook, and it's about time we change that. Whether you have marble, hardwood, tile or laminated floors, a good doormat can make a massive difference to the overall aesthetics of a space.
What's more, they come in a wide variety of shapes, sizes and patterns to complement your interior design. If you do decide to redecorate again in the middle of the year, simply swap your doormats for ones that go best with your home's new colour scheme.
If you can't find a doormat that suits your style, you can have one personalised to match your home's interior.
Doormat Types Every Homeowner Should Know
There are several types of mats that you can choose from, both for indoor and outdoor use:
Indoor Doormats
As its name implies, an indoor doormat is designed for use inside the house. Much like outdoor mats, they are sturdy and effectively collect dirt, keeping your home tidy. This type of mat can be made from natural or synthetic rubber, cotton, fibre or polypropylene. It also has a backing made of non-slip materials like plastic, rubber and latex.
Outdoor Doormats
Your shoes pick up dirt and debris as you walk. The job of an outdoor mat is to make sure they don't enter your home. Since they are exposedto harsh elements, outdoor mats are more weather-resistant and water-absorbent than their indoor counterparts.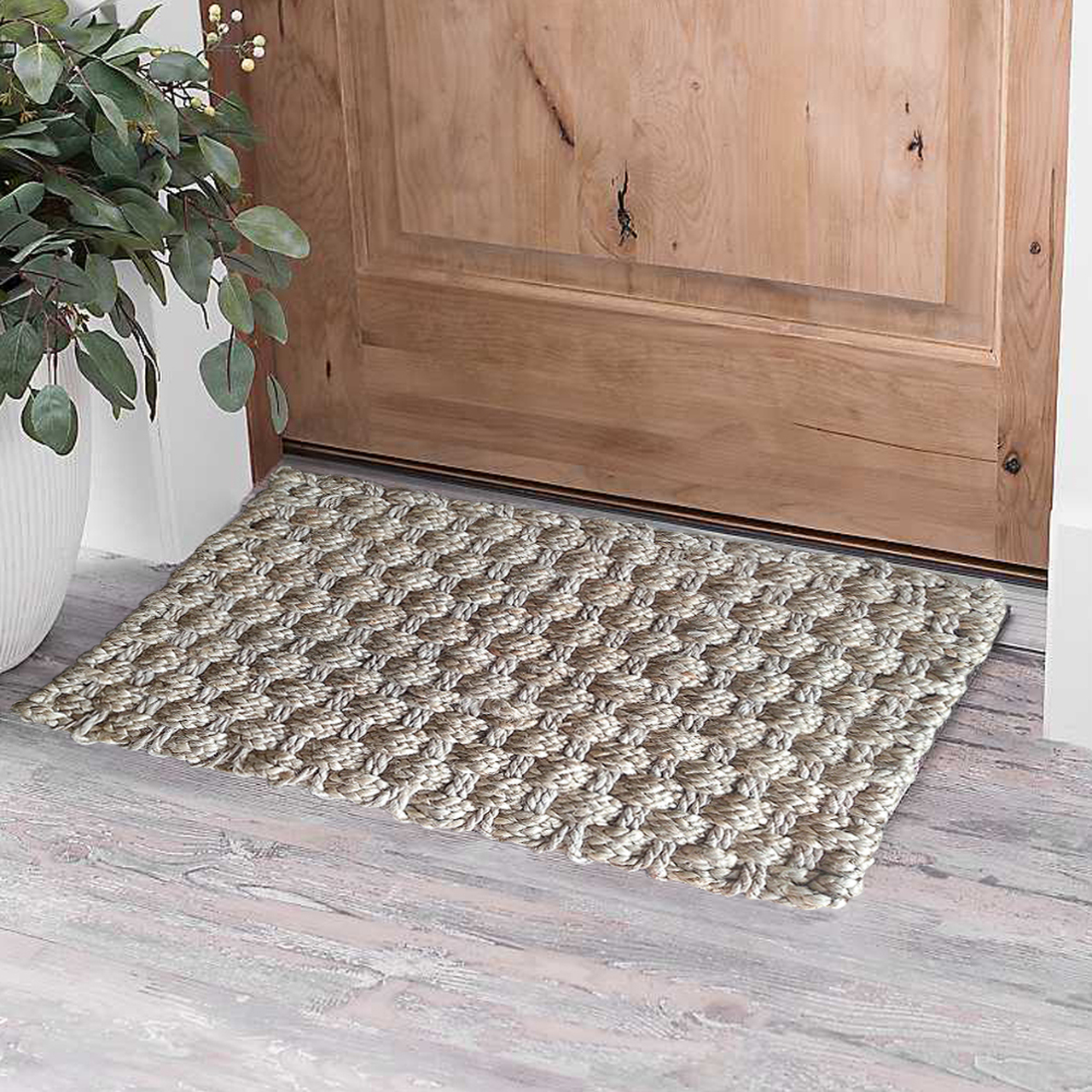 Scraper Doormats
Scraper mats are designed to be placed outside your doorstep and are more heavy-duty than regular outdoor mats. Their abrasive design and edges allow people to scrape off dirt, debris and other contaminants that have accumulated on the soles of their shoes.
Most scraper doormats are made of tough materials, such as vinyl, coir, rubber and PVC. Their added durability enables them to withstand any type of weather without showing signs of wear or fading.
Decorative Doormats
These mats are made for indoor or outdoor use, but their main purpose is to add visual appeal. This means that they are less weather-resistant and not as durable as most types of outdoor and indoor mats.
Decorative mats come in unique geometric patterns, bright colours and floral designs. Some even have funny sayings on them. You can also have your initials or favourite quote printed on them.
What Materials Are Available?
No matter how beautiful a mat is, function always beats aesthetics. The good news is that doormats come in a wide variety of durable and long-lasting materials. Here are some of them:
Coir
If you're looking for an eco-friendly option, coir mats are the best choice. They are made from natural materials but still offer the same level of durability as artificial mats. Plus, their abrasive surface works well for scraping dirt from the soles of your shoes.
Rubber
Rubber mats may not be as visually pleasing, but they deliver in terms of durability. Able to withstand extreme heat and heavy rains, these mats are definitely rugged and long-lasting.
Microfiber
Microfiber doormats are typically used indoors. They are highly effective for soaking up dirt, grime and moisture. If you live in a damp area with constant rain showers, microfiber mats are your best friends.
Your Top Choice for Premium-Quality Doormats
Find durable doormats in gorgeous styles and designs at Door Mat. Our mats are attractive and stylish yet functional and durable. Plus, they're made of ethically sourced materials.
Shop high-end doormats without the hefty price tag. Get in touch with us today to learn more about our products.