Doormats are home decor pieces found in every household, but many people take them for granted. However, they serve other purposes besides adding visual appeal to your entryway.
Dr. Leila Karimpoor, an internist and hospitalist at the Providence Saint John's Health Center, explains how shoes track disease-causing germs from the outdoors into your home.
You can prevent this from happening by strategically placing a front doormat in your entryway. Doormats do a fantastic job of keeping dirt and moisture on the soles of shoes from being tracked into your home.
If you're not sure which type to get, you can use this guide as a reference.
Selecting the Best Mat for Your Home
With the right mat, you'll never have to worry about tracked-in mud and moisture dirtying or even damaging your floors. Consider these factors when choosing a doormat:
Doormat Size
As a rule of thumb, choose a mat big enough to stand on while you scrape off excess dirt from the soles of your shoes. The mat should cover at least 80% of your door's width to ensure optimal coverage and better visual appeal. If the width of an average front door is three feet, your mat should at least be 29 inches wide for single doors and 57 ½ inches wide for double doors.
Some homeowners use cut-to-size coir matting, which can be trimmed to ensure a precise fit for your front porch or entryway. However, there are also pre-sized coir mats for homeowners who want a ready-to-use option.
Thickness of the Mat
Thicker isn't always better when it comes to doormats. Shorter pile mats have firmer bristles and do an excellent job removing dirt than their thicker counterparts.
Make sure that there is enough clearance between the door and mat to avoid scraping and damaging its surface. For reference, most doors have a ½ inch to ¾ inch gap from the floor.
Location of Mat
Outdoors
Outdoor mats are exposed to harsh elements such as heavy rain and extreme cold. Naturally, it's important to choose a mat that can withstand weather and temperature changes. Examples are coir and rubber doormats.
Additionally, mats placed in uncovered areas should be able to dry quickly. Avoid PVC-backed mats for outdoor use, as water exposure can result in a bubbling effect and reduce the lifespan of your mat.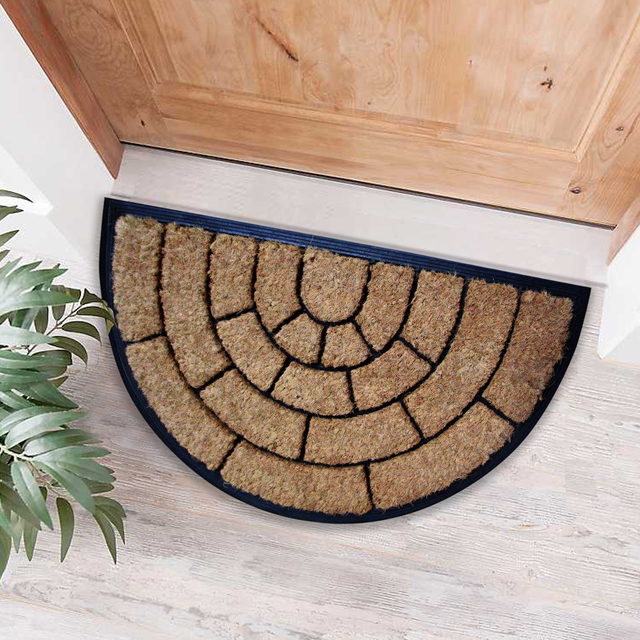 Indoors
The primary function of an indoor doormat is to catch excess water and dirt missed by the first mat. With that in mind, choose a mat that is water-absorbent and quick drying. If you're purchasing a colored doormat, ensure that the dye used won't bleed and damage the floor underneath.
It's also recommended to choose mats in darker colors so that collected dirt won't be visible.
Where Should I Place My Mat?
Ideally, each doorway should have two doormats. The first mat scrapes dirt from the bottom of the shoes, while the second mat absorbs excess moisture. You have the option to place one mat outside and one inside, or have them both inside.
Homeowners on a budget may opt for a single mat, preferably of coir material, as it is absorbent and does an excellent job of scraping debris from the bottom of shoes.
Experts recommend matting all entrances to your home, not just the main entryway. These include entrances to a workshop, basement, and garage.
Proper Way to Clean a Doormat
The cleaning method you use will depend on the floormat's material. While most indoor mats are machine-washable, always check the washing instructions from the manufacturer.
If your mats are not machine-washable, shake or beat them first to remove loose debris, then proceed with vacuuming. Once done, hose it down, and use a mild detergent and a soft-bristle brush to remove any stains. Give the mat a final rinse before leaving it to air-dry.
Get Premium-Quality Doormats for Your Space
Are you looking for quality doormats that efficiently rid your footwear of outside dirt and moisture? Turn to Door Mat. We offer ethically sourced coir mats that easily scrape off dirt and mud from shoes. They are durable and rot-resistant, making them perfect for both indoor and outdoor use.
All our products are made in-house by our team of talented and hardworking interior designers. They have invested time and effort into creating timeless pieces that create long-term value to our customers.
Browse our extensive selection of doormats online and find one that complements your space. If you have any questions, feel free to reach out to our team today.