Step by Step Guide On How To Make Your Own Personalised Doormat
A good doormat is essential to every home due to a number of benefits. It's used to wipe mud and moisture from different shoes and slippers that enter your home, and this small addition also adds design and colour to your entryway, and there are plenty of designs you can choose from to add character to your home.
If you have wood, marble, tile or carpeted flooring, you can save a good number of years by placing a durable doormat outside. It protects your floor from any dirt or moisture that can shorten the lifespan of your floor. It's also good for your pets, so they can clean their feet before they track in dirt or mud into your home.
Do-It-Yourself Doormats
You can also create your own doormat and show your personality at the entrance of your home. Doormats say a lot about a person, and they're a great addition to your home's aesthetics.
If you want a customised doormat, you can use simple materials and a Cricut machine. A DIY doormat is a great way to be creative and add more personality to your front door and welcome family and friends. You can reuse your old coir mat and transform it into something better. Coir is a great material for mats as it's natural and easy to clean with warm water or a vacuum.
Need a design inspiration? You can check out some of our doormats for sale or you can also visit sites like Pinterest or Instagram. Here are the materials you will need in making your own mat: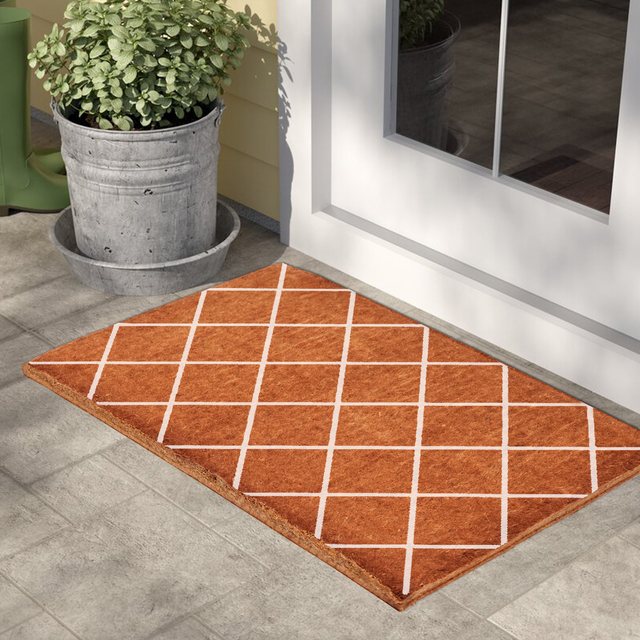 ● Coir Doormat
● 12 x 24 Light Grip Cricut Mat
● Freezer Paper
● Stencil Brush
● Outdoor Acrylic Paint
● Flat Head Pins
● Mod Podge Outdoor Sealant
● Iron
● Sealer (Optional)
Here are the steps on how to create a DIY doormat:
Five Easy Steps in Creating a DIY Doormat:
1. Download Your Door Mat Design
Download your preferred design in SVG file and open it in Design Space. Resize it to fit your mat and measure the width and height to get the best fit. You can opt to resize the image and take up much space on the mat, or go minimalistic and place it in the centre.
You can either search for various designs available online, or draw your own. Quick Tip: Use a bold font style and avoid any thin lines for the best results. Make sure to set the base material in Design Space as freezer paper and load the fine-point blade.
2. Cut Freezer Paper on Cricut Machine
The freezer paper features a shiny waxed side that allows it to be temporarily joined to the material, making it perfect for stencils. You can make multiple mats or use the rest for your other projects.
Place the shiny side of your freezer paper downwards on the mat. Place it on the Cricut machine then press the flashing Cricut mat and start cutting. Remove the mat once done. Using a weeding tool, remove the letters and keep small pieces inside the letters in place on the mat. Gently remove the freezer paper, then place the stencil down on the mat. Make sure the design is centred.
Place a few flat head pins to put it in place. Transfer any remaining pieces of the freezer paper on the mat. You can use flat head pins to secure them in place.
3. Transfer Stencil and Iron the Freezer Paper to the Mat
Heat up your iron to the highest setting and turn off the steam. Adhere the freezer paper using the iron and cover as much area as possible. Press each section for about 30 seconds or until you see the paper adhere to the fibres of your mat.
4. Paint Your Doormat with Stencil
Using a stencil brush, paint up and down along the inside of the stencil. Make sure to prevent the paint from bleeding under the stencil. Cover the whole design and allow the paint to dry for about 10 to 15 minutes before applying a second layer of paint. If needed, you can add a third coating of paint for a bold and vibrant colour.
Allow the paint to dry, then remove the stencil to reveal your finished doormat.
5. Seal Your Personalised Doormat
To seal, you can apply a layer of Mod Podge Outdoor sealant to make your doormat withstand the harsh outdoor weather conditions. This classic decoupage glue can be used on a variety of materials, and it can be easily washed with soap and water.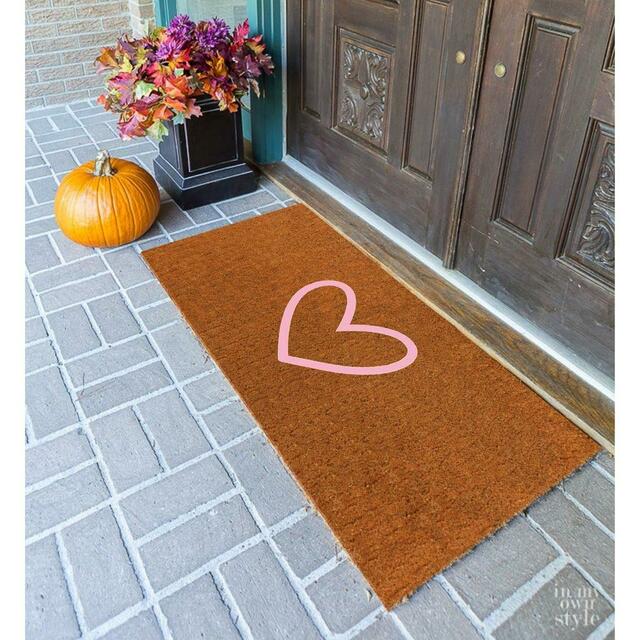 High-Quality Personalised Doormats
Door Mat offers a wide range of beautiful indoor and outdoor doormats that are long-lasting and helps protect your flooring. These doormats feature good scraping qualities and natural absorbency, suitable for everyday use. You can also opt for personalised doormats that are perfect for adding character to your home, and also perfect as gifts.
For enquiries about personalising your design, send us an email at hello@doormat.net.au or call us today at 1800-571-133.