How to choose a doormat
It's a cliche, but it's true: first impressions last. And when you're bringing guests over to your home for the first time, their impression of your space can impact how they view you.
That's why you want the entrance of your home to look great and reflect who you are as a person. One way to accomplish this is by buying the right doormat for your entryway.
Why Are Doormats Important?
Doormats are responsible not just for creating a welcoming sight for visitors, but also for trapping dirt, dust and other types of debris that cling to the bottom of shoes. These are abrasive and can damage your floors.
Apart from that, dirt from outside can be tracked inside your home, carrying bacteria that can result in illnesses. But when every person who enters your home gets to wipe or scrape their footwear off your doormat, you can reduce the likelihood of germs spreading.
With that said, it's important to choose the right doormat for your home. Below, we listed the key considerations for choosing the right doormat:
Size
Doormats come in all shapes and sizes, so you have plenty of options. But when choosing the right doormat size, take into account your doormat's main purpose. As such, it should be big enough that every person entering your home can use it properly to dust off their footwear.
In addition, for aesthetic purposes, you may want to consider the size of your doormat relative to the space it's placed in. A small doormat in a wide entryway would look even smaller, while a large doormat in a narrow space could make your entryway look cramped.
Thickness
A rug's pile refers to the density of fibres, so your doormat could be flat (short pile) or shaggy (long pile). As such, the pile also determines a doormat's thickness.
The right thickness depends on the main purpose of your doormat. Flat doormats with their short pile are ideal for doormats used for scraping shoes. Shaggy or long pile doormats, on the other hand, are ideal for doormats that are more decorative.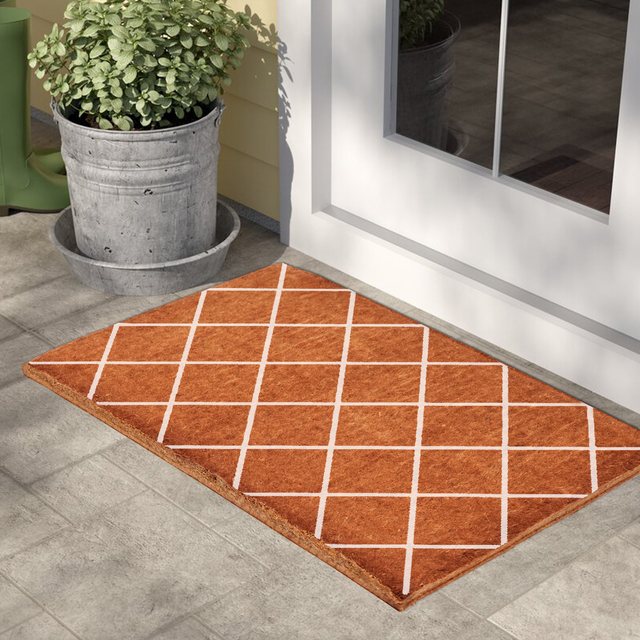 Material
Doormats are made from a variety of materials, including:
●polyester
●coir
●recycles rubber
Polyester mats are slip=resistant, easy to clean and come in a variety of colours and textures. Coir mats, meanwhile, are known for being coarse, so they can effectively scrape dirt from shoes, making them perfect for outdoor doormats. Finally, recycled rubber mats are nonporous but easy to clean.
Shape and Design
Doormats are available in all shapes, shades and designs. You can opt for a conventional rectangular-shaped doormat for your entryway or make the space more visually striking with a round or square-shaped doormat.
You can also add more visual interest to your entryway by choosing a doormat in beautiful colours or patterns. You may also want to take into account the dirt and grime that will cling to your doormat, so it's a good idea to choose a design that will hide them.
Types of Doormats
The type of doormat you choose also matters, especially when you consider where you're placing your doormat. The following are the most common types of doormats:
●Scraper mats
●Interior mats
●Decorative mats
●Specialty mats
Shop for Doormats
Whether you're looking for a large or small doormat, made from coir or polyester and personalised to your style, Door Mat is your one-stop online shop for doormats in Australia.
Browse our vast selection and buy your outdoor doormat today.