What to Look for When Buying an Outdoor Doormat
It is essential to have an outdoor doormat just outside each doorway to protect the interiors from dirt, mud, water, snow, and rainwater brought in by people's footwear. They can also be decorative and give people something nice to look at when entering your home or place of business. This article will provide tips on what you should look for when buying your outdoor doormat.
Qualities to look for
Here are some of the most important qualities you should look for to ensure you're getting a good product when choosing your outdoor doormat.
Non-Trip
Falls are the leading cause of unintentional injury among adults age 65 years and older in the U.S. For this reason, your outdoor doormat must not cause you to trip and fall. Choose a doormat that will not ripple in the middle or curl at the edges. Also, opt for one that does not tear easily because the torn parts can be tripping hazards.
Non-Slip
Your outdoor doormat must not slide around when you're walking on it. Ensure the mat is secured to the flooring with high-traction backing. Also, choose one with a high-friction texture that will hold on to footwear and is efficient for scraping dirt off footwear.
Absorbent
The mat must be able to soak up any water or mud that is tracked onto it, preventing it from being brought into your home. A doormat with recessed water dams is ideal for this, as it will trap water and dirt within the mat so that it cannot be brought inside.
Waterproof
In addition to being absorbent, your outdoor doormat must also be waterproof. This ensures that the mat will not become waterlogged and heavy, making it difficult to clean or move.
Easy to clean
Your outdoor doormat should be easy to clean. You must be able to simply hose it down, wipe it with a damp cloth, or shake it to remove any dirt or debris.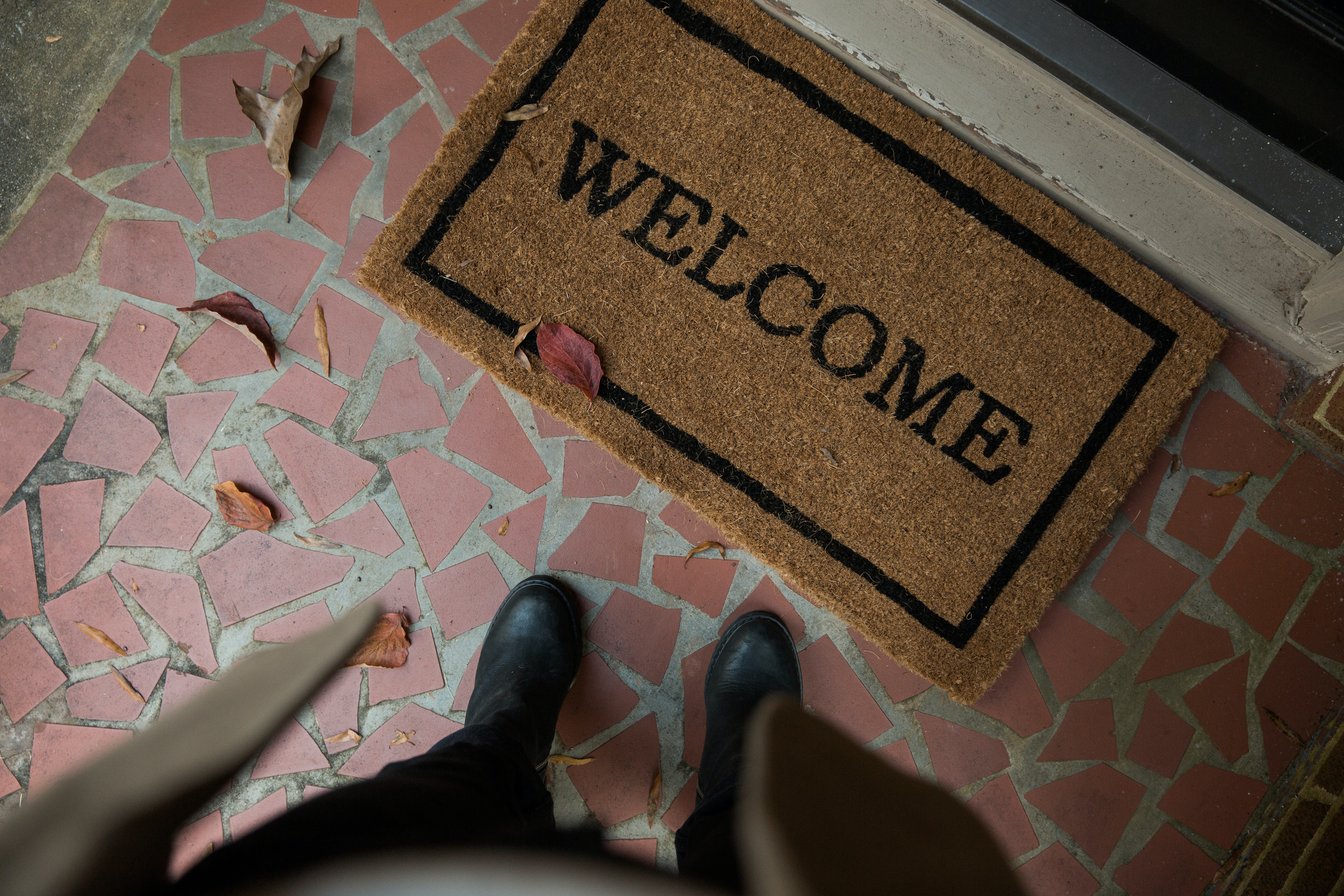 What material should your doormat be made of?
One of the most crucial things to consider when choosing an outdoor doormat is what material it is made of. That will determine how durable, effective, and easy to clean your mat is.
Coir
Coir mats are made of natural coconut fibers, making them a durable and environmentally friendly option. They can be cleaned easily by beating them with a paddle. In addition, they have a rustic appeal and look even better with age.
Polypropylene
Polypropylene mats are made of a synthetic material that can withstand a lot of wear and tear and is resistant to mildew and rot. They are easy to clean by simply shaking or hosing them down. The disadvantage, however, is that their pile can flatten with age.
Nylon
Nylon mats are another synthetic option. They are also durable and easy to clean with a hose or a brush. They are, however, not resistant to stains.
Rubber-backed Mats
Rubber backing helps keep the mat in place and prevents it from slipping. It also protects the flooring beneath the mat from scratches.
Buying Your Outdoor Mat Online
Choosing an outdoor doormat with these qualities will help to ensure that you're getting a good product that will last you for many years. Save time and effort by buying your outdoor doormat online. It is easy to compare the qualities and materials of available products from the comfort of your home.